15 Days of Prayer with Dietrich Bonhoeffer
View basket
"School(s) for Conversion: 12 marks of a new monasticism" has been added to your basket.
£8.95
Dietrich Bonhoeffer, Lutheran pastor, theologian, opponent of Hitler, and martyr, stands as one of the boldest examples of twentieth century Christian witness. By the time that the Gestapo hanged him in Flossenberg Concentration Camp for involvement in a plot to assassinate Hitler, Bonhoeffer had marked out not only a firm Christian defence of the rights of God's ancient people, the Jews, but had sketched out an undogmatic Christianity for 'a world come of age.' The essence of this Christian vision was the belief that God is always present in Christ and always present in suffering. In a twenty-first century when trivial quarrels can still divide Christians, Bonhoeffer's witness to this core gospel truth, and his willingness to die for it, offer an enduring example.
This book offers a fifteen day course in Bonhoeffer's spirituality, drawing abundantly from his writings.
This is one of several books we stock in the "15 Days of Prayer" series,  providing direction from foundational spiritual figures. Each volume in the series contains: * A brief biography of the saint or spiritual leader introduced in that volume, a guide to creating a format for prayer and retreat, 15 meditations sessions with focus points and reflection guides.
Out of stock
Additional information
| | |
| --- | --- |
| Weight | 0.132 kg |
| Dimensions | 19 × 11.7 × 1.1 cm |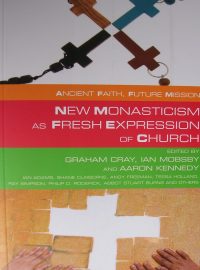 New Monasticism, Re-imagining Church
Signs of fresh life, springing up from the roots of traditional monastic life, can be seen throughout the Church as growing numbers of groups - whether gathered or scattered - seek to live the gospel with renewed integrity. Is God shaping a new monasticism? Can ancient tradition enrich the life and mission of the wider Church? Can it engage with the complexity of contemporary culture and create an atmosphere, as Abbot Stuart Burns ask, where Christ can be encountered? New monastic pioneers from Britain and America share their stories and reflect on their commitment to mission in diverse local contexts, sustained by community and a rule of life. They explore how the essentials of monastic spirituality  - prayer, hospitality, community, rhythm of life and practical engagement - can resource a mission in today's world where the Church and culture often stand far apart.
£

16.99