Come let us age! An invitation to grow old boldly
£6.99
In this unique book, Wanda Nash, a well-established writer on spirituality in her late seventies, reflects on growing old with faith and a positive spirit. This compelling invitation to grow old boldly – full of her own experiences and insights – includes Wanda's reflection on her encounter later in life with terminal cancer, and her thoughts on coping with the daily challenges of living a Christian life in her illness and in ageing. Demonstrating a profound sense of the value and purposefulness of 'old age', the author's indomitable spirit is matched only by fresh vision of the love of God in Jesus Christ.
Until her death in June 2015, Wanda Nash was an author and speaker on a range of subjects including stress and spirituality. Having been the UK Chair of the International Stress Management Association, she authored a number of significant books, including Christ, Stress and Glory, At Ease with Stress, Come, Let us Play!, Simple Tools for Stillness and Silence as a Meeting Place.
These reflections have been lovingly edited by Wanda's daughter, Poppy, and her friend Debbie Thrower, bringing to life the wisdom, faith and humour of old age for future generations.
Only 1 left in stock
Additional information
| | |
| --- | --- |
| Weight | 0.115 kg |
| Dimensions | 19.8 × 13 × 0.9 cm |
| Format | |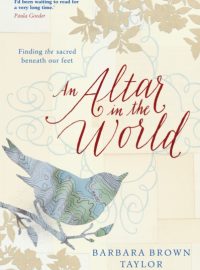 Church & Leadership, Everyday Life, Influences & Suggested Reading, The Inner Journey
In this highly acclaimed and lyrical book, the best-selling author Barbara Brown Taylor reveals the countless ways we can discover divine depths in the small things we do and see every day. People go to extraordinary lenghts, she writes, to discover this treasure. 'They will spend hours launching prayers into the heavens. They will travel half way around the world to visit a monastery in India...The last place most people will look is right under their feet, in the everyday activities, accidents and encounters of their lives...the reason so many of us cannot see the red X marks the spot is because we're standing on it.' An Altar in the the World shows us how heaven and earth meet in such ordinary occurrences as hanging out the wahing, doing the supermarket shop, feeding an animal, losing our way. It will transfrom our understanding of ourselves and the word we live in and renew our sense of wonder at the extraordinary gift of life.
£

12.99