Come let us age! An invitation to grow old boldly
£6.99
In this unique book, Wanda Nash, a well-established writer on spirituality in her late seventies, reflects on growing old with faith and a positive spirit. This compelling invitation to grow old boldly – full of her own experiences and insights – includes Wanda's reflection on her encounter later in life with terminal cancer, and her thoughts on coping with the daily challenges of living a Christian life in her illness and in ageing. Demonstrating a profound sense of the value and purposefulness of 'old age', the author's indomitable spirit is matched only by fresh vision of the love of God in Jesus Christ.
Until her death in June 2015, Wanda Nash was an author and speaker on a range of subjects including stress and spirituality. Having been the UK Chair of the International Stress Management Association, she authored a number of significant books, including Christ, Stress and Glory, At Ease with Stress, Come, Let us Play!, Simple Tools for Stillness and Silence as a Meeting Place.
These reflections have been lovingly edited by Wanda's daughter, Poppy, and her friend Debbie Thrower, bringing to life the wisdom, faith and humour of old age for future generations.
Only 1 left in stock
Additional information
| | |
| --- | --- |
| Weight | 0.115 kg |
| Dimensions | 19.8 × 13 × 0.9 cm |
| Format | |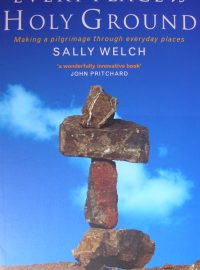 Spiritual Exercises, The Inner Journey
In Every Place is Holy Ground, Sally Welch opens our eyes and our senses to places we may already think we know well: our own homes, local churches and the community where we live. We discover that even the most familiar surroundings can become places of sacred encounter as we learn to see them as though we were pilgrims on a journey. This practical guidebook helps us enter those spaces as never before, with fresh awareness of their potential to bring us into the presence of God. Guided meditations using stories, symbols, reflections and prayers are provided for prayer journeys inspired by everyday sights. They trace the pattern of traditional pilgrimages to far-off holy places and reflect both the joys and trials of such journeys: encouraging, challenging, questioning and stretching us so that we may cultivate a richer sense of being fully alive in the present moment. Every Place is Holy Ground will enable us to see our everyday surroundings with eyes alert to the signs of God's glory in creation and to the blessings to be found on our own doorsteps. The adventure of pilgrimage changes people. As Bishop John Pritchard writes in the foreword, 'Even if we are taking the route of pilgrimage in our own home, we will find that we have travelled far and thought deep ... And through it all we will also get to know better the Good Companion who travels with us every step of the journey, the Lord of the Pilgrimage, God himself.'
£

9.99