Eyes to See : The Redemptive Purpose of Icons
£10.00
Eyes to See: The Redemptive Purpose of Icons offers the discovery of life-giving spiritual insights found through learning to read the language of religious icons. Written especially for those whose traditions have not included icons, this book introduces eight icons written (painted) by the author. Historical notes, explanation of symbolism, related scriptures for interpretation, and a reflection for each icon deepens understanding and appreciation for the ancient holy images of the Church.
The book is eight chapters in length, each describing one of the eight full-colour icon plates in the insert.
Out of stock
Additional information
| | |
| --- | --- |
| Weight | .212 kg |
| Dimensions | 22.9 × 15.2 × .8 cm |
| Format | |
Influences & Suggested Reading, Orthodox Tradition
This book (fundamental to the Community) by Catherine de Hueck Doherty explores the heart of drawing apart to a meeting place with God. Poustinia, a Russian word, means 'desert'. Men and women who desire communion with God can discover how the poustinia powerfully fulfils their yearning. Readers are invited to leave the noise and harried pace of daily life to enter a place of silence and solitude. The author writes from her own experience with refreshing and startling Christian authenticity and a strong personal sense of spiritual authority.
£

12.00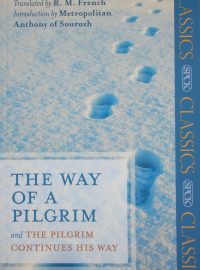 Orthodox Tradition, The Inner Journey
Translated by R.M. French In The Way of a Pilgrim, an unknown pilgrim describes his wanderings through mid-nineteenth-century Russia and Siberia, from one holy place to another in search of the ways of prayer. R. M. French's superb translation conveys the charm of the original text and communicates brilliantly the spiritual truths of the gospel. In the much loved sequel, The Pilgrim Continues His Way, the narrator shares more of his story, as desire burns within him to discover deeper experiences of prayer, and to draw closer to the heart of God.
£

10.99
Monasticism & New Monasticism, Orthodox Tradition
This is a brilliant introduction to the living theology of the Orthodox Church since the publication of the
Philkolia
in 1782, revealing the amazing diversity and fecundity of the Orthodox theological tradition. This is sure to become the standard handbook of Orthodox theology in the nineteenth and twentieth centuries.
John Behr, Dean, St Vladimir's Seminary, New York
£

25.00