Love, Remember: 40 poems of loss, lament and hope
View basket
"Everything Belongs: The Gift of Contemplative Prayer" has been added to your basket.
£12.99
We live in  culture that allows little room for grief and tears. Funerals are often 'celebrations of life', yet we need to mark and lament loss, to name death and to  confront it. Death is not 'nothing at all', as one popular funeral reading suggests, but a seemingly searing and inexplicable rupture of all that we have known.
In Love, Remember, the poet and priest Malcolm Guite chooses and reflects on forty poems, from Shakespeare to Carol Ann Duffy, that offer something of a map and some notes for travellers across this difficult terrain. From the threshold of death and the shock of loss, to remembering with love and looking forward in hope, this compassionate and wise companion reveals that the journey of grief, for all its twists and turns and setbacks, is also where we may experience sudden moments of grace, unexpected glimpses of hope and intimations of immortality.
Out of stock
Additional information
| | |
| --- | --- |
| Weight | 0.297 kg |
| Dimensions | 21.7 × 13.5 × 1.8 cm |
| Format | |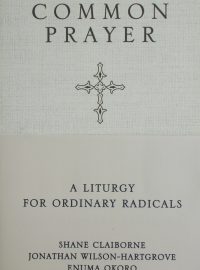 Daily Readings, Scripture & Prayer
With an ear to the particulars of how various liturgical traditions pray, and using an advisory team of liturgical experts, Shane Claiborne, Jonathon Wilson-Hartgrove and Enuma Okoro have created Common Prayer for Ordinary Radicals. This universal prayer book allows readers to greet each day together, remembering significant dates and Christian heroes in church history, as well as important historic dates in the struggle for freedom and justice. There are morning prayers for each day of the year, evening prayers for each of the seven days of the week, a midday prayer to be repeated throughout the year, and prayers for special occasions. In addition there are morning prayers for Holy Week. Common Prayer also includes a unique song book composed of music and classic lyrics to more than fifty songs from various traditions, including African spirituals, traditional hymns, Mennonite gathering songs, and Taize chants. Tools for prayer are scattered throughout to aid those who are unfamiliar with liturgy and to deepen the prayer life of those who are familiar with liturgical prayer. Ultimately Common Prayer makes liturgy dance, taking the best of the old and bringing new life to it with a fresh fingerprint for the contemporary renewal of the church.
£

10.99