Love, Remember: 40 poems of loss, lament and hope
View basket
"Prayer Beads" has been added to your basket.
£12.99
We live in  culture that allows little room for grief and tears. Funerals are often 'celebrations of life', yet we need to mark and lament loss, to name death and to  confront it. Death is not 'nothing at all', as one popular funeral reading suggests, but a seemingly searing and inexplicable rupture of all that we have known.
In Love, Remember, the poet and priest Malcolm Guite chooses and reflects on forty poems, from Shakespeare to Carol Ann Duffy, that offer something of a map and some notes for travellers across this difficult terrain. From the threshold of death and the shock of loss, to remembering with love and looking forward in hope, this compassionate and wise companion reveals that the journey of grief, for all its twists and turns and setbacks, is also where we may experience sudden moments of grace, unexpected glimpses of hope and intimations of immortality.
Out of stock
Additional information
| | |
| --- | --- |
| Weight | 0.297 kg |
| Dimensions | 21.7 × 13.5 × 1.8 cm |
| Format | |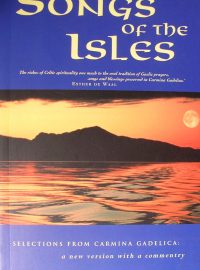 Celtic Prayer, Celtic Studies & Spirituality, Scripture & Prayer, Spiritual Growth
The isles in the title of this book are the Hebrides which lie between the west of Scotland and the north of Ireland, and the songs are the prayers an blessings which originated there between the sixth and ninth centuries. They remained a purely oral tradition until a hundred years ago when Alexander Carmichael collected and published them as Carmina Gadelica, the source book that led to the revival of Celtic spirituality today. These prayers and songs capture the remarkable spiritual vision of a people keeping faith through good and ill, ekeing out an existence in a world that was often harsh and inhospitable. They rejoice at the birth of a child o a good harvest, glory in natural beauty, lament in suffering, cry out for help or protection, and invoke God's blessing on even the most humble tasks. Until now we have only known them in the Victorian language of Carmichael's collection, bu in Kathleen Jones' fresh translation, thir poetic simplicity and power is fully revealed and we hear authentic Celtci voices speaking with conviction about life and death, hearth and home, land and sea, and the journey of the soul beneath the protecting power of heaven.
£

14.99