Love, Remember: 40 poems of loss, lament and hope
£12.99
We live in  culture that allows little room for grief and tears. Funerals are often 'celebrations of life', yet we need to mark and lament loss, to name death and to  confront it. Death is not 'nothing at all', as one popular funeral reading suggests, but a seemingly searing and inexplicable rupture of all that we have known.
In Love, Remember, the poet and priest Malcolm Guite chooses and reflects on forty poems, from Shakespeare to Carol Ann Duffy, that offer something of a map and some notes for travellers across this difficult terrain. From the threshold of death and the shock of loss, to remembering with love and looking forward in hope, this compassionate and wise companion reveals that the journey of grief, for all its twists and turns and setbacks, is also where we may experience sudden moments of grace, unexpected glimpses of hope and intimations of immortality.
Out of stock
Additional information
| | |
| --- | --- |
| Weight | 0.297 kg |
| Dimensions | 21.7 × 13.5 × 1.8 cm |
| Format | |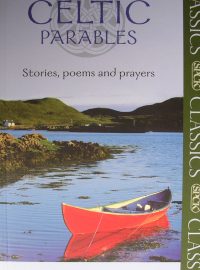 Celtic Prayer, Celtic Studies, Celtic Studies & Spirituality, Scripture & Prayer, Spiritual Growth
Never mock what others say.  Perhaps their words are full of nonsense. Perhaps they are trying to puff themselves up. Perhaps they like hearing the sound of their voices. Perhaps they are trying to deceive their hearers. Perhaps they are foolish and dim. Perhaps they are more clever than wise. Yet amidst the useless clay You may find jewels beyond price. The word of God is in every heart, And can speak through every voice. Never mock (p.104) This collection of stories, meditations, poems and prayers evokes the authentic spirit of Celtic Christianity. Capturing the atmosphere of parables passed down through generations, it shows the human warmth, respect for the natural world and robust, down-to-earth qualities for which Celtic spirituality is so greatly valued. With its rich treasury of material – most of it previously unavailable in modern editions – Celtic Parables offers a fresh lively introduction to the Celtic world. It will appeal to all those fascinated by our Celtic heritage and the way it speaks directly to us today.
£

9.99