Praying our Goodbyes
£10.75
Everyone has unique goodbyes–times of losing someone or something that has given life meaning and value. With the touch of a poet, Joyce Rupp offers her wisdom on "these experiences of leaving behind and moving on, the stories of union and separation that are written in all our hearts." Praying Our Goodbyes, Rupp says, is about the spirituality of change.
It is a book for anyone who has experienced loss, whether a job change, the end of a relationship, the death of a loved one, a financial struggle, a mid-life crisis, or an extended illness. It is designed to help readers reflect, ritualize, and re-orient themselves–to help heal the hurts caused by goodbyes and the anxieties encountered when one season of life ends and another begins.
Out of stock
Additional information
| | |
| --- | --- |
| Weight | .310 kg |
| Dimensions | 22.8 × 15.3 × 1.1 cm |
| Format | |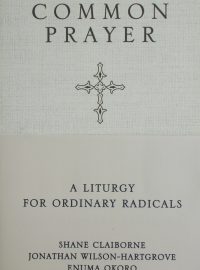 Daily Readings, Scripture & Prayer
With an ear to the particulars of how various liturgical traditions pray, and using an advisory team of liturgical experts, Shane Claiborne, Jonathon Wilson-Hartgrove and Enuma Okoro have created Common Prayer for Ordinary Radicals. This universal prayer book allows readers to greet each day together, remembering significant dates and Christian heroes in church history, as well as important historic dates in the struggle for freedom and justice. There are morning prayers for each day of the year, evening prayers for each of the seven days of the week, a midday prayer to be repeated throughout the year, and prayers for special occasions. In addition there are morning prayers for Holy Week. Common Prayer also includes a unique song book composed of music and classic lyrics to more than fifty songs from various traditions, including African spirituals, traditional hymns, Mennonite gathering songs, and Taize chants. Tools for prayer are scattered throughout to aid those who are unfamiliar with liturgy and to deepen the prayer life of those who are familiar with liturgical prayer. Ultimately Common Prayer makes liturgy dance, taking the best of the old and bringing new life to it with a fresh fingerprint for the contemporary renewal of the church.
£

10.99