Praying our Goodbyes
£10.75
Everyone has unique goodbyes–times of losing someone or something that has given life meaning and value. With the touch of a poet, Joyce Rupp offers her wisdom on "these experiences of leaving behind and moving on, the stories of union and separation that are written in all our hearts." Praying Our Goodbyes, Rupp says, is about the spirituality of change.
It is a book for anyone who has experienced loss, whether a job change, the end of a relationship, the death of a loved one, a financial struggle, a mid-life crisis, or an extended illness. It is designed to help readers reflect, ritualize, and re-orient themselves–to help heal the hurts caused by goodbyes and the anxieties encountered when one season of life ends and another begins.
Out of stock
Additional information
| | |
| --- | --- |
| Weight | .310 kg |
| Dimensions | 22.8 × 15.3 × 1.1 cm |
| Format | |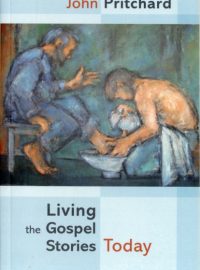 Scripture & Prayer
In this exhilarating book, John Pritchard reclaims the narrative power of the Gospels by retelling well-known stories in vivid, imaginative language, and showing us how our own experiences fit into the Christian story and can be transformed by it. He takes key narrative like the visit of Mary to Elizabeth, the parable of the rich fool, and the last supper and helps us to be part of them. We are given the opportunity to see the people involved more clearly, not least of all Jesus himself – and so consider whether we might live our own lives a little differently. An ideal resource for anyone concerned to communicate the Christian faith in a lively, contemporary style, Living the Gospel Stories Today will prove no less helpful as an aid to personal meditation and group discussion.
£

8.99