Praying our Goodbyes
£10.99
Everyone has unique goodbyes–times of losing someone or something that has given life meaning and value. With the touch of a poet, Joyce Rupp offers her wisdom on "these experiences of leaving behind and moving on, the stories of union and separation that are written in all our hearts." Praying Our Goodbyes, Rupp says, is about the spirituality of change.
It is a book for anyone who has experienced loss, whether a job change, the end of a relationship, the death of a loved one, a financial struggle, a mid-life crisis, or an extended illness. It is designed to help readers reflect, ritualize, and re-orient themselves–to help heal the hurts caused by goodbyes and the anxieties encountered when one season of life ends and another begins.
In stock
Additional information
| | |
| --- | --- |
| Weight | .310 kg |
| Dimensions | 22.8 × 15.3 × 1.1 cm |
| Format | |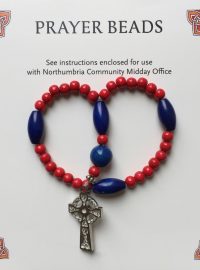 Celtic Daily Prayer & Liturgy, Northumbria Community Resources & Teaching, Scripture & Prayer
Wooden beads plus a metal celtic cross that can be held in the hand as an aid to prayer. Rob Davies, who has lost his sight and puts these together with the help of his wife, finds that holding the cross and using the individual beads helps him to keep praying. Others have also found them very helpful and we commend them. The pack contains suggestions as to how the beads might best be used, showing how each bead can be used to pray through the Midday Office from Celtic Daily Prayer. Colours may vary. A small number of packs containing beads in the form of a string rather than a loop are available on request. Please email the office.
£

6.00
Rated 3.00 out of 5