Speaking the Truth : Preaching in a diverse culture
View basket
"Gift from the Sea" has been added to your basket.
£17.99
`Truth' is a difficult subject in a pluralistic culture, and `the truth' is even more challenging. Yet the preacher's call is to be a speaker of truth – the truth of God in Jesus Christ. What does it take to speak the truth faithfully as a preacher of the gospel, for that truth to be heard, and for words and ideas to generate actions and build relationships? Samuel Wells has learned that speaking the truth means telling the Christian story alongside the contemporary secular story.
It means helping your hearers perceive both the harmonies and the dissonance between the two. It means inviting them, with both conviction and humility, to decide how their own story is going to be shaped by this truth. In this volume, he reflects on the practice of speaking about God, faith, the Bible, discipleship, resurrection, salvation, politics and truth, and on preaching that resonates in particular contexts.
It is a book to encourage and give confidence to all preachers, and preachers in training.
In stock
Additional information
| | |
| --- | --- |
| Weight | .382 kg |
| Dimensions | 23.4 × 15.5 × 2.7 cm |
| Format | |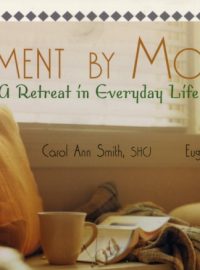 Everyday Life, Spiritual Exercises, The Inner Journey
Drawing on the classic retreat model, The Spiritual Exercises of St Ignatius, Moment by Moment offers a new and inviting way to find God in our often busy and complex lives. In a series of 32 'Moments', the text guides the reader with thought-provoking  questions, practical suggestions, and excerpts carefully chosen from Scripture and The Spiritual Exercises. Its simple format can be used by an individual or by groups in a number of ways: as a way of making the Spiritual Exercises in daily life, as a guide for daily prayer, as a companion for reflection, or as suggested themes for a retreat. Drawing upon their extensive experience as spiritual directors, the authors write in their introduction, 'This book offers a way to reflect and sift through one's multiple life experiences and to discover in them the leading thread of God's longing and desire to make us a holy people who are given in service to others.' Anyone seeking spiritual growth will discover that Moment by Moment offers wise direction and fosters a holistic spirituality firmly rooted in the daily experience of God in one's life.
£

12.99