Speaking the Truth : Preaching in a diverse culture
View basket
"Leaving Church: A Memoir of Faith" has been added to your basket.
£17.99
`Truth' is a difficult subject in a pluralistic culture, and `the truth' is even more challenging. Yet the preacher's call is to be a speaker of truth – the truth of God in Jesus Christ. What does it take to speak the truth faithfully as a preacher of the gospel, for that truth to be heard, and for words and ideas to generate actions and build relationships? Samuel Wells has learned that speaking the truth means telling the Christian story alongside the contemporary secular story.
It means helping your hearers perceive both the harmonies and the dissonance between the two. It means inviting them, with both conviction and humility, to decide how their own story is going to be shaped by this truth. In this volume, he reflects on the practice of speaking about God, faith, the Bible, discipleship, resurrection, salvation, politics and truth, and on preaching that resonates in particular contexts.
It is a book to encourage and give confidence to all preachers, and preachers in training.
In stock
Additional information
| | |
| --- | --- |
| Weight | .382 kg |
| Dimensions | 23.4 × 15.5 × 2.7 cm |
| Format | |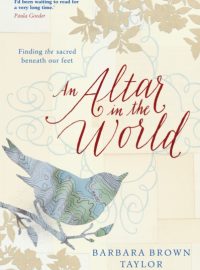 Church & Leadership, Everyday Life, Influences & Suggested Reading, The Inner Journey
In this highly acclaimed and lyrical book, the best-selling author Barbara Brown Taylor reveals the countless ways we can discover divine depths in the small things we do and see every day. People go to extraordinary lenghts, she writes, to discover this treasure. 'They will spend hours launching prayers into the heavens. They will travel half way around the world to visit a monastery in India...The last place most people will look is right under their feet, in the everyday activities, accidents and encounters of their lives...the reason so many of us cannot see the red X marks the spot is because we're standing on it.' An Altar in the the World shows us how heaven and earth meet in such ordinary occurrences as hanging out the wahing, doing the supermarket shop, feeding an animal, losing our way. It will transfrom our understanding of ourselves and the word we live in and renew our sense of wonder at the extraordinary gift of life.
£

12.99