Oswald Liturgy Card
View basket
"CDP Complines Booklet" has been added to your basket.
£0.65
A trifold A4 card containing the Oswald Liturgy from Celtic Daily Prayer Book 1: The Journey Begins. A useful resource for pilgrimages and retreats.
10% discount when buying 5 or more copies.
In stock
10% discount when buying 5 or more copies
Additional information
| | |
| --- | --- |
| Weight | 0.016 kg |
| Dimensions | 21 × 10.1 × 0.1 cm |
| Format | |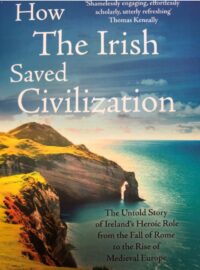 Celtic Sites & Saints, Celtic Studies, Celtic Studies & Spirituality
From the fall of Rome to the rise of Charlemagne – the 'dark ages' – learning, scholarship and culture disappeared from the European continent. The great heritage of Western civilisation – from the Greek and Roman classics to Jewish Christian works – would have been utterly lost were it not for the holy men and women of the unconquered Ireland. In this delightful and illuminating look into a crucial but little-known 'hinge' of history, Thomas Cahill takes us to the 'island of saints and scholars', the Ireland of St Patrick and the Book of Kells. Here, far from the barbarian despoliation of the continent, monks and scribes labouriously, lovingly, even playfully preserved the West's written treasury. With the return of stability in Europe, these Irish scholars were instrumental in spreading learning. Thus the Irish not only were conservators of civilisation, but became shapers of the medieval mind, putting their unique stamp on Western civilisation.
£

13.50