Wingshadow: Print
View basket
"Simplicity: The freedom of letting go" has been added to your basket.
£10.00
A 21cm square print featuring original artwork by Francesca Ross and using wording from our Community's Evening Prayer.
In stock
Additional information
| | |
| --- | --- |
| Weight | 0.04 kg |
| Dimensions | 21 × 21 × 0.2 cm |
| Format | |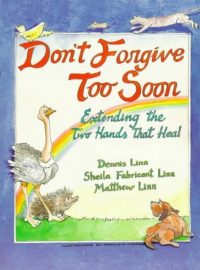 Influences & Suggested Reading, Spiritual Growth, The Inner Journey
This is an illustrated book by Matthew Linn, Sheila Fabricant Linn and Dennis Linn. They describe it as follows: 'When we are hurt, we are tempted to either act as a passive doormat or to strike back and escalate the cycle of violence. We can avoid both of these temptations and find creative responses to hurts by moving through the five stages of forgiveness. In so doing, we discover the two hands of nonviolence: one hand that stops the person who hurts us and the other that reaches out, calms that person and offers new life. This book has healing processes so simple that children can use them."
£

12.99