Chad Liturgy Card
View basket
"An Introduction to the Wisdom of the Celtic Saints" has been added to your basket.
£0.65
A trifold A4 card containing the Chad Liturgy from Celtic Daily Prayer Book 1: The Journey Begins. A useful resource for pilgrimages and retreats.
10% discount when buying 5 or more copies.
In stock
Additional information
| | |
| --- | --- |
| Weight | 0.016 kg |
| Dimensions | 21 × 10.1 × 0.1 cm |
| Format | |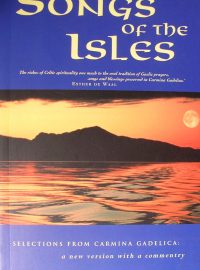 Celtic Prayer, Celtic Studies & Spirituality, Scripture & Prayer, Spiritual Growth
The isles in the title of this book are the Hebrides which lie between the west of Scotland and the north of Ireland, and the songs are the prayers an blessings which originated there between the sixth and ninth centuries. They remained a purely oral tradition until a hundred years ago when Alexander Carmichael collected and published them as Carmina Gadelica, the source book that led to the revival of Celtic spirituality today. These prayers and songs capture the remarkable spiritual vision of a people keeping faith through good and ill, ekeing out an existence in a world that was often harsh and inhospitable. They rejoice at the birth of a child o a good harvest, glory in natural beauty, lament in suffering, cry out for help or protection, and invoke God's blessing on even the most humble tasks. Until now we have only known them in the Victorian language of Carmichael's collection, bu in Kathleen Jones' fresh translation, thir poetic simplicity and power is fully revealed and we hear authentic Celtci voices speaking with conviction about life and death, hearth and home, land and sea, and the journey of the soul beneath the protecting power of heaven.
£

14.99