Dietrich Bonhoeffer : An Introduction to His Thought
View basket
"Followers of the Way: Ancient discipleship for modern Christians" has been added to your basket.
£16.99
In this refreshing new book on Dietrich Bonhoeffer, author Sabine Dramm examines the twentieth century's bestknown German pastor and theologian. Dietrich Bonhoeffer's passionate life and dramatic death are well known. Here, his life and the death he accepted in resistance to Hitler are examined in the context of his faith and thought, as found in his own writings. This is a book about Bonhoeffer's vibrant Christian faith and his profound yet very practical theological thinking. Dramm explores Bonhoeffer's sermons, letters, articles, and books. She offers her readers an outstanding introduction to the breadth of his writing and the depth of his theological thinking. She also shows how Bonhoeffer's beliefs and understandings led him to active resistance to the Nazi regime: to the establishment of alternative church groups, to espionage, and ultimately to conspiracy to overthrow the government by assassinating Hitler.
Out of stock
Additional information
| | |
| --- | --- |
| Weight | 0.326 kg |
| Dimensions | 21.6 × 14.2 × 1.6 cm |
| Format | |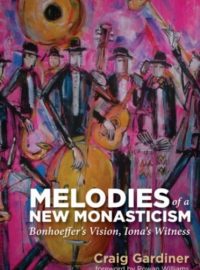 Monasticism & New Monasticism, New Monasticism
The New Monastic Movement is a vibrant source of renewal for the church's life and mission. Many involved in this movement have quoted Dietrich Bonhoeffer's conviction that the church must recover ancient spiritual disciplines if it is to effectively engage 'the powers that be'. Melodies of a New Monasticism adopts a musical metaphor of polyphony (the combination of two or more lines of music) to articulate the way that these early Christian virtues can be woven together in community. Creatively using this imagery, this book draws on the theological vision of Bonhoeffer and the contemporary witness of George MacLeod and the Iona Community to explore the interplay between discipleship, doctrine, and ethics.
£

25.00