Facing Death: Bible readings for special times
View basket
"From Wild Man to Wise Man: Reflections on male spirituality" has been added to your basket.
£3.99
This collection of 18 undated reflections draws comfort and encouragement from the Bible and from the author's own experience for those going through life-limiting illness and for their family and carers. With moving vulnerability and without denying the difficult reality of the situation, Rachel Boulding suggests a way to confront terminal illness with faith and hope in a loving God. Facing Death grew out of the overwhelming response to Rachel's Bible notes in New Daylight (May-August 2016).
Readers recognised in her comments her courage to be authentic in the face of terminal illness, her appropriate vulnerability and her faith.
Out of stock
Additional information
| | |
| --- | --- |
| Weight | .063 kg |
| Dimensions | 21.2 × 14.9 × .6 cm |
| Format | |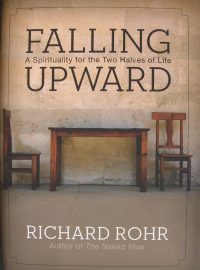 Influences & Suggested Reading, Seasons of Life, The Inner Journey
In the first half of life, we are naturally and rightly preoccupied with establishing our identities – climbing, achieving, and performing. But those concerns will not serve us as we grow older and begin to embark on a further journey, one that involves challenges, mistakes, loss of control, broader horizons, and necessary suffering that shocks us out of our comfort zones. Eventually, we need to see ourselves in a different and more life-living way. This message of 'falling down' – that is in fact moving upward – is the most resisted and counterintuitive of messages in the world's religions, including and most especially Christianity. In Falling Upward, Father Richard Rohr offers a new paradigm for understanding one of the most profound of life's mysteries: how our failing can be the foundation for our ongoing spiritual growth. Drawing on the wisdom from time-honoured myths, heroic poems, great thinkers, and sacred religious texts, the author explores the two halves of life to show that those who have fallen, failed, or 'gone down' are the only ones who understand 'up'. We grow spiritually more by doing it wrong than by doing it right. With rare insight, Rohr takes us on a journey to give us an understanding of how the heartbreaks, disappointments and first loves of life are actually stepping stones to the spiritual joys that the second half of life has in store for us.
£

11.99