Multicoloured Praises
View basket
"Our Father: A4 signed print" has been added to your basket.
£4.49
A collection of sixteen simple outlines to colour in. Ideal for children and adults, use Multicoloured Praises for relaxation or prayer, on holiday or retreat.
In stock
Additional information
| | |
| --- | --- |
| Weight | 0.093 kg |
| Dimensions | 21 × 14.8 × 0.5 cm |
| Format | |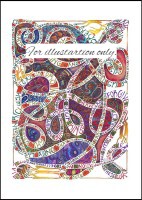 Creativity, Spiritual Growth
The Lord's Prayer circa. 1400AD Oure Fader in hevene riche, Thin name be iblesced evere iliche, Led us Loverd into thi blisce, Let us nevre thin riche misse. Let us Loverd underfon That thin wille be evere idon Also hit is in hevene In erthe be hit evene, The hevene bred that lasteth ay Gif us Loverd this ilke day, Forgif us Loverd in our bone Al that we haven here misdone, Also wisliche ase we forgiven Ilwiles we in this worlde liven Al that us is here misdo And we biseken the thereto, Led us Loverd to non fondinge And sscild us from alle evel thinge. Source: "The Lord's Prayer in the Principal Languages, Dialects and Versions of the World, printed in Type and Vernaculars of the Different Nations, compiled and published by G.F. Bergholtz", Chicago, Illinois, 1884. Translation for 'Our Father': Our Father in heaven rich, Thy name be blessed I wish, Lead us Lord into thy bliss, Let us never thy riches miss. Let us Lord accept alone That thy will be ever done Also as it is in heaven In earth may it be even, The heaven bread that lasteth today Give us Lord this same day, Forgive us Lord to our bone All that we have here misdone, Also as we wisely forgave While we in this world live All that here us misdo And we beseech thee too, Lead us Lord to our testing And shield us from all evil thing. Adapted using a medieval dictionary & a bit of imagination - language scholars please excuse any horrible mistakes. The modern version interwoven with the old: Our Father in heaven, hallowed be your name, your kingdom come, your will be done, on earth as in heaven. Give us today our daily bread. Forgive us our sins as we forgive those who sin against us. Lead us not into temptation but deliver us from evil. From the Church of England 'Common Worship' publications, published by Church House. Printing and Sizing: This item is 210mmX297mm and is printed on 300gsm card stock using our in-house printer. Each print is individually signed by Mary Fleeson and is packaged in a cellophane wrapper with a descriptive backing sheet explaining more about the piece and the Scriptorium.
£

12.50