Multicoloured Praises
£4.49
A collection of sixteen simple outlines to colour in. Ideal for children and adults, use Multicoloured Praises for relaxation or prayer, on holiday or retreat.
In stock
Additional information
| | |
| --- | --- |
| Weight | 0.093 kg |
| Dimensions | 21 × 14.8 × 0.5 cm |
| Format | |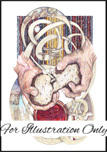 Creativity, Spiritual Growth
Background: 'Remember' is a celebration of Christ's words to His disciples, 23For I received from the Lord what I also passed on to you: The Lord Jesus, on the night he was betrayed, took bread, 24and when he had given thanks, he broke it and said, "This is my body, which is for you; do this in remembrance of me." 25In the same way, after supper he took the cup, saying, "This cup is the new covenant in my blood; do this, whenever you drink it, in remembrance of me." (1 Corinthians 11:23-25, NIV) Artist Mary Fleeson tells us that...'The image includes the empty tomb and the angel standing outside with Jesus and Mary in the garden, the road to Emmaus, a bright star – to remind us of His birth and the light He brought to a fallen world and Jesus carrying the cross as a symbol of carrying the sin of the world. The rich knotwork pattern behind is the backdrop to the royal story of The King of the Universe. The large knot reminds us of our life journey and how God wants us to be immersed, surrounded and sharing in His journey.' Printing and Sizing:  This item is 210mm x 297mm and is printed on 300gsm card stock using our in-house printer. Each print is individually signed by Mary Fleeson and is packaged in a cellophane wrapper with a descriptive backing sheet explaining more about the piece and the Scriptorium.
£

12.50