Y Gwasanaeth Dyddiol: Y Foreol, Canolddydd a'r Hwyrol Weddi
View basket
"An Introduction to the Wisdom of the Celtic Saints" has been added to your basket.
£0.65
Defnyddir y ffurfiau hyn o weddi ddyddiol yn Nether Springs, Mam-Dŷ Cymuned Northumbria, a gan Gymdeithion a Ffrindiau'r Gymuned lle bynnag y maen nhw.
These trifold A4 cards are also available in English.
Only 1 left in stock
10% discount when buying 5 or more cards in the same transaction.
Additional information
| | |
| --- | --- |
| Weight | 0.016 kg |
| Dimensions | 21 × 10 × 0.2 cm |
| Format | |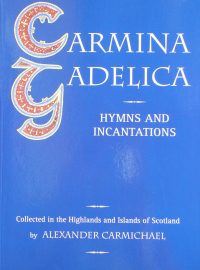 Celtic Prayer, Celtic Studies, Celtic Studies & Spirituality, Scripture & Prayer, Spiritual Growth
Carmina Gadelica is an anthology of poems and prayers from the Gaelic oral tradition, the most comprehensive ever collected. They came from communities all over the Highlands and Islands of Scotlad, were often shared or performed in the evening ceilidh and therby passed on from generation to generation. Alexander Carmichael complied the collection in the second half of the nineteenth century, and in doing so created a lasting record of a culture and way of life that has now largely disappeared. In the Introduction, Carmichael recounts with great warmth and evident pleasure the hospitality which he received from the people whose songs and stories he was anxious to record "I have three regrets -" he says, "that I had not been earlier collecting, that I have not been more diligent in collecting, and that I am not better qualified to treat what I have collected." Nevertheless, Carmina Gadelica quickly became an invaluable resource for those wanting to study and understand Gaelic culture and for those wanting to experience the beauty and wisdom of its oral literature.
£

20.00