Destiny : Learning to Live by Preparing to Die
£9.99
Only a proper perspective on death provides the true perspective on life.Living in the light of your death will help you to live wisely, freely and generously. It will give you a big heart and open hands, and enable you to relish all the small things of life in deeply profound ways. Death can teach you the meaning of mirth.The author encourages us to take the one thing in the future that is certain – our death – and work backwards from that point into all the details and decisions and heartaches of our lives, and to think about them from the perspective of the end.
It is the destination which makes sense of the journey. If we know for sure where we are heading, then we can know for sure what we need to do before we get there.Learn to find true joy and satisfaction in God's good gifts, and, in realizing your own smallness, see just how great God is.
In stock
Additional information
| | |
| --- | --- |
| Weight | .244 kg |
| Dimensions | 21.8 × 14.2 × 1.9 cm |
| Format | |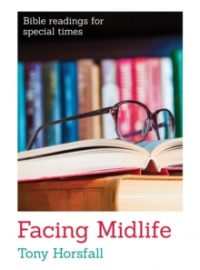 Seasons of Life, Spiritual Growth
A book of undated biblical reflections, Facing Midlife is a unique devotional guide to one of the most spiritually important transitions in life. Midlife brings with it both difficulty and opportunity but the Scriptures show us how to handle these challenges wisely so that in the second half of life we reach our full potential and find our unique God-given vocation. In Facing Midlife Tony Horsfall shows that God is involved in the midlife transition, using it to shape and form us into the likeness of Christ, and to prepare us for the exciting calling he still has for us. Rather than to be avoided or ignored, the midlife transition is one to be embraced confidently in the knowledge that God is at work in all the circumstances of our lives.
£

3.99