Destiny : Learning to Live by Preparing to Die
£9.99
Only a proper perspective on death provides the true perspective on life.Living in the light of your death will help you to live wisely, freely and generously. It will give you a big heart and open hands, and enable you to relish all the small things of life in deeply profound ways. Death can teach you the meaning of mirth.The author encourages us to take the one thing in the future that is certain – our death – and work backwards from that point into all the details and decisions and heartaches of our lives, and to think about them from the perspective of the end.
It is the destination which makes sense of the journey. If we know for sure where we are heading, then we can know for sure what we need to do before we get there.Learn to find true joy and satisfaction in God's good gifts, and, in realizing your own smallness, see just how great God is.
In stock
Additional information
| | |
| --- | --- |
| Weight | .244 kg |
| Dimensions | 21.8 × 14.2 × 1.9 cm |
| Format | |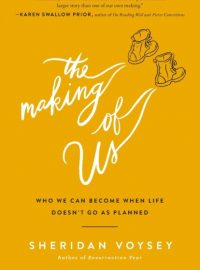 Everyday Life, Seasons of Life, Spiritual Growth, The Inner Journey
Beautiful Things Can Emerge from Life Not Going as Planned.  When life takes one too many unexpected turns, do you find yourself saying, "I don't know who I am anymore"? In the wake of shattered dreams, do you wonder how you will keep going-and if you'll ever find purpose or joy again? After infertility, an international move, and a professional change shook Sheridan Voysey's world, he realized that he couldn't reconcile his expectations with the life he was living. Feeling lost, he decided to pair his spiritual journey with a literal one: a hundred-mile pilgrimage along the northeast coast of England. Inspired by the life and influence of the seventh-century monk Cuthbert, Sheridan travelled on foot from the Holy Island of Lindisfarne to Durham. Taking his friend DJ along for the journey, and keeping a journal by his side, Sheridan discovered not resolution but peace. Not ambition but purpose. Not shouts of convictions but whispers of the presence of God. In The Making of Us, Sheridan invites us to join him as he walks along England's shores and we trace the borders of our own hearts. Part pilgrim's journal, part call to reflection, The Making of Us eloquently reminds us of the beauty of journeying into uncertainty, the freedom of letting go, and the wonder of losing our identity only to discover who we really are.
£

10.99