Into the Depths : A Chaplain's Reflections on Death, Dying and Pastoral Care
£12.99
Pastoral care is central to Christian ministry, and it can take ministers to the edges of human life. Chaplains often work on the edge of institutions, and frequently on the edge of society. In this thoughtful and practical book, Rosie Deedes draws on her experience as a chaplain in prisons and hospices and reflects on the nature of pastoral care and the contribution chaplaincy can make to the life and ministry of the Church.
Focusing particularly on the taboo subject of death and dying, she shows how ministers such as clergy and chaplains are called to go 'into the depths' of human life to share the love and compassion of God. Reflecting on a number of pastoral encounters, the book invites ministers to confront the depths of human life and to develop resilience that enables them to engage in depth with all they encounter.
In stock
Additional information
| | |
| --- | --- |
| Weight | .248 kg |
| Dimensions | 21.6 × 13.9 × 1.2 cm |
| Format | |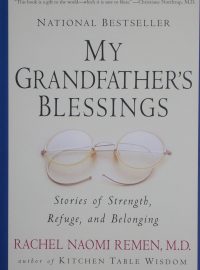 Church & Leadership, Everyday Life, The Inner Journey
In My Grandfather's Blessings, Rachel Naomi Remen, a cancer physician and master storyteller, uses her luminous stories to remind us of the power of our kindness and the joy of being alive. Dr Remen's grandfather, an Orthodox rabbi and scholar of the Kabbalah, saw life as a web of connection and knew that everyone belonged to him, and that he belonged to everyone. He taught her that blessing one another is what fills our emptiness, heals our loneliness, and connects us more deeply to life. Life has given us many more blessings than we have allowed ourselves to receive. My Grandfather's Blessings is about how we can recognise and receive our blessings and bless the life in others. Serving others heals us. Through service we will discover our own wholeness – and the way to restore hidden wholeness in the world.
£

14.99