Into the Depths : A Chaplain's Reflections on Death, Dying and Pastoral Care
£12.99
Pastoral care is central to Christian ministry, and it can take ministers to the edges of human life. Chaplains often work on the edge of institutions, and frequently on the edge of society. In this thoughtful and practical book, Rosie Deedes draws on her experience as a chaplain in prisons and hospices and reflects on the nature of pastoral care and the contribution chaplaincy can make to the life and ministry of the Church.
Focusing particularly on the taboo subject of death and dying, she shows how ministers such as clergy and chaplains are called to go 'into the depths' of human life to share the love and compassion of God. Reflecting on a number of pastoral encounters, the book invites ministers to confront the depths of human life and to develop resilience that enables them to engage in depth with all they encounter.
In stock
Additional information
| | |
| --- | --- |
| Weight | .248 kg |
| Dimensions | 21.6 × 13.9 × 1.2 cm |
| Format | |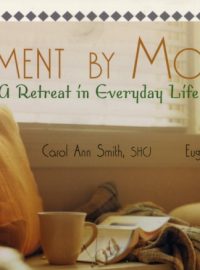 Everyday Life, Spiritual Exercises, The Inner Journey
Drawing on the classic retreat model, The Spiritual Exercises of St Ignatius, Moment by Moment offers a new and inviting way to find God in our often busy and complex lives. In a series of 32 'Moments', the text guides the reader with thought-provoking  questions, practical suggestions, and excerpts carefully chosen from Scripture and The Spiritual Exercises. Its simple format can be used by an individual or by groups in a number of ways: as a way of making the Spiritual Exercises in daily life, as a guide for daily prayer, as a companion for reflection, or as suggested themes for a retreat. Drawing upon their extensive experience as spiritual directors, the authors write in their introduction, 'This book offers a way to reflect and sift through one's multiple life experiences and to discover in them the leading thread of God's longing and desire to make us a holy people who are given in service to others.' Anyone seeking spiritual growth will discover that Moment by Moment offers wise direction and fosters a holistic spirituality firmly rooted in the daily experience of God in one's life.
£

12.99