Postcards from the Land of Grief
£12.99
Grief can often feel like a gnawing homesickness for a place where you used to live, but to which you can never return. Richard Littledale has written a series of short, candid thoughts and reflections from his own experience of widowhood that will resonate and bring comfort and understanding to anyone experiencing bereavement.
These thoughts are written as postcards from the land of grief, as they are used to convey a message from this foreign country of bereavement. Postcards are, by definition, a small snapshot of a feeling at any one time, not long and drawn out essays, and these thoughts provide an accessible way to identify feelings and draw hope from a fellow traveller.
Richard also includes practical resources and advice on the grieving process, and reflects on how his faith in God has sustained him. The book is deliberately designed to be able to dip in and out of as required at the point of need. It is also useful for those who want to give a helpful book to comfort a friend, or for anyone wanting to help understand how their bereaved loved one might be feeling.
In stock
Additional information
| | |
| --- | --- |
| Weight | .358 kg |
| Dimensions | 17.7 × 12.6 × 1.2 cm |
| Format | |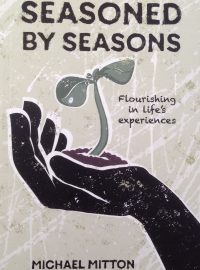 Seasons of Life, Spiritual Growth
Like the seasons themselves, our lives are variable and can change in a moment. In Seasoned by Seasons, Michael Mitton acknowledges this and offers Bible reflections for the variety of life's seasons: spring, the season of emerging new life; summer, the season of fruitfulness; autumn, the season of letting go; winter, the season of discovering light in the dark. What can we learn, and how can we be encouraged in each season of our lives? This book will empower you to discover for yourself the truths and messages of scripture, and might well change the way you view life's changes.
£

9.99