Postcards from the Land of Grief
£12.99
Grief can often feel like a gnawing homesickness for a place where you used to live, but to which you can never return. Richard Littledale has written a series of short, candid thoughts and reflections from his own experience of widowhood that will resonate and bring comfort and understanding to anyone experiencing bereavement.
These thoughts are written as postcards from the land of grief, as they are used to convey a message from this foreign country of bereavement. Postcards are, by definition, a small snapshot of a feeling at any one time, not long and drawn out essays, and these thoughts provide an accessible way to identify feelings and draw hope from a fellow traveller.
Richard also includes practical resources and advice on the grieving process, and reflects on how his faith in God has sustained him. The book is deliberately designed to be able to dip in and out of as required at the point of need. It is also useful for those who want to give a helpful book to comfort a friend, or for anyone wanting to help understand how their bereaved loved one might be feeling.
In stock
Additional information
| | |
| --- | --- |
| Weight | .358 kg |
| Dimensions | 17.7 × 12.6 × 1.2 cm |
| Format | |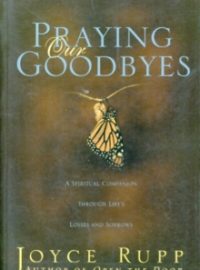 Everyday Life, Scripture & Prayer, Seasons of Life
Everyone has unique goodbyes--times of losing someone or something that has given life meaning and value. With the touch of a poet, Joyce Rupp offers her wisdom on "these experiences of leaving behind and moving on, the stories of union and separation that are written in all our hearts." Praying Our Goodbyes, Rupp says, is about the spirituality of change. It is a book for anyone who has experienced loss, whether a job change, the end of a relationship, the death of a loved one, a financial struggle, a mid-life crisis, or an extended illness. It is designed to help readers reflect, ritualize, and re-orient themselves--to help heal the hurts caused by goodbyes and the anxieties encountered when one season of life ends and another begins.
£

10.99