Facing Death: Bible readings for special times
£3.99
This collection of 18 undated reflections draws comfort and encouragement from the Bible and from the author's own experience for those going through life-limiting illness and for their family and carers. With moving vulnerability and without denying the difficult reality of the situation, Rachel Boulding suggests a way to confront terminal illness with faith and hope in a loving God. Facing Death grew out of the overwhelming response to Rachel's Bible notes in New Daylight (May-August 2016).
Readers recognised in her comments her courage to be authentic in the face of terminal illness, her appropriate vulnerability and her faith.
Out of stock
Additional information
| | |
| --- | --- |
| Weight | .063 kg |
| Dimensions | 21.2 × 14.9 × .6 cm |
| Format | |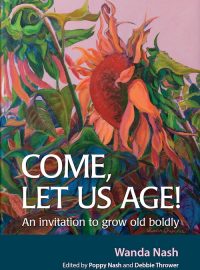 Everyday Life, Seasons of Life, The Inner Journey
In this unique book, Wanda Nash, a well-established writer on spirituality in her late seventies, reflects on growing old with faith and a positive spirit. This compelling invitation to grow old boldly – full of her own experiences and insights – includes Wanda's reflection on her encounter later in life with terminal cancer, and her thoughts on coping with the daily challenges of living a Christian life in her illness and in ageing. Demonstrating a profound sense of the value and purposefulness of 'old age', the author's indomitable spirit is matched only by fresh vision of the love of God in Jesus Christ. Until her death in June 2015, Wanda Nash was an author and speaker on a range of subjects including stress and spirituality. Having been the UK Chair of the International Stress Management Association, she authored a number of significant books, including Christ, Stress and Glory, At Ease with Stress, Come, Let us Play!, Simple Tools for Stillness and Silence as a Meeting Place. These reflections have been lovingly edited by Wanda's daughter, Poppy, and her friend Debbie Thrower, bringing to life the wisdom, faith and humour of old age for future generations.
£

6.99